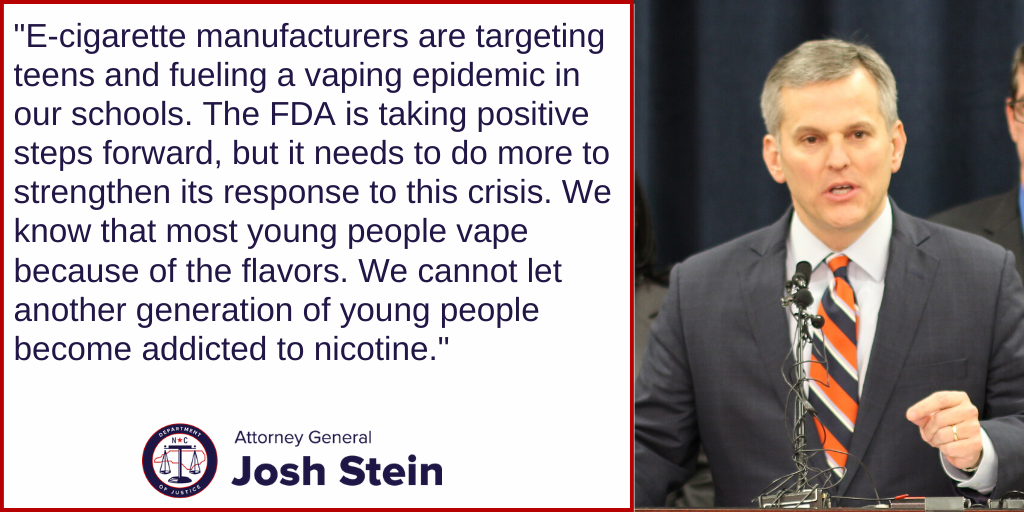 For Immediate Release:
Thursday, February 27, 2020
(RALEIGH) Attorney General Josh Stein today urged the Food and Drug Administration (FDA) to strengthen its guidance on the enforcement of electronic cigarette, or e-cigarette, regulations. Attorney General Stein, who has been a critic of e-cigarette marketing to young people and was the first attorney general to file a lawsuit against Juul in May of 2019, is part of a coalition of 27 attorneys general urging the FDA to expand its guidance to include menthol flavors and disposable, refillable products.
"E-cigarette manufacturers are targeting teens and fueling a vaping epidemic in our schools," said Attorney General Josh Stein. "The FDA is taking positive steps forward, but it needs to do more to strengthen its response to this crisis. We know that most young people vape because of the flavors. We cannot let another generation of young people become addicted to nicotine."
The FDA released guidance in January describing how the agency will prioritize e-cigarette enforcement resources. According to the guidance, the FDA will prioritize enforcement against flavored, cartridge-based e-cigarettes, with the exception of tobacco or menthol-flavored products. The FDA will also prioritize enforcement against e-cigarette products marketed toward minors or against manufacturers that have not taken adequate measures to prevent minors from using their products.
The FDA includes mint-flavored e-cigarette products in its current guidance, and the attorneys general point out young people will find menthol, which is derived from mint, to be a convenient substitute. The FDA also does not explain how it will distinguish between the two similar flavors. It's likely the agency will be forced to rely on packaging descriptions, creating a loophole for manufacturers to simply rename the flavors on product labels.
The guidance also does not prioritize disposable products or refillable cartridge systems that are popular among youth. The attorneys general contend that the FDA's focus on cartridge-based products creates a loophole for young people to use self-contained, disposable products. Two of the most popular e-cigarette devices among high school students are disposable, and the guidance will push more youth toward refillable systems.
Attorney General Stein has been leading the fight against the national teen vaping epidemic. He filed the first state lawsuit against e-cigarette manufacturer Juul in May 2019 for aggressively marketing their products to young people and misrepresenting the dangers of the nicotine in e-cigarettes. He also filed lawsuits against eight additional e-cigarette companies in August 2019 for aggressively targeting children and lax age verification processes. The courts barred most of these companies from selling any e-cigarette products in North Carolina for the duration of the lawsuits.
Attorney General Stein is joined in sending today's letter by the Attorneys General of Illinois, Idaho, Utah, Alaska, California, Colorado, Connecticut, Delaware, the District of Columbia, Hawaii, Maine, Maryland, Massachusetts, Nevada, New Mexico, New York, Oklahoma, Oregon, Pennsylvania, Puerto Rico, Rhode Island, Texas, Vermont, Virginia, Washington, and Wisconsin.
A copy of the comment letter can be found here.
More on Attorney General Stein's work on the teen vaping epidemic and e-cigarettes:
Contact:
Laura Brewer (919) 716-6484
###