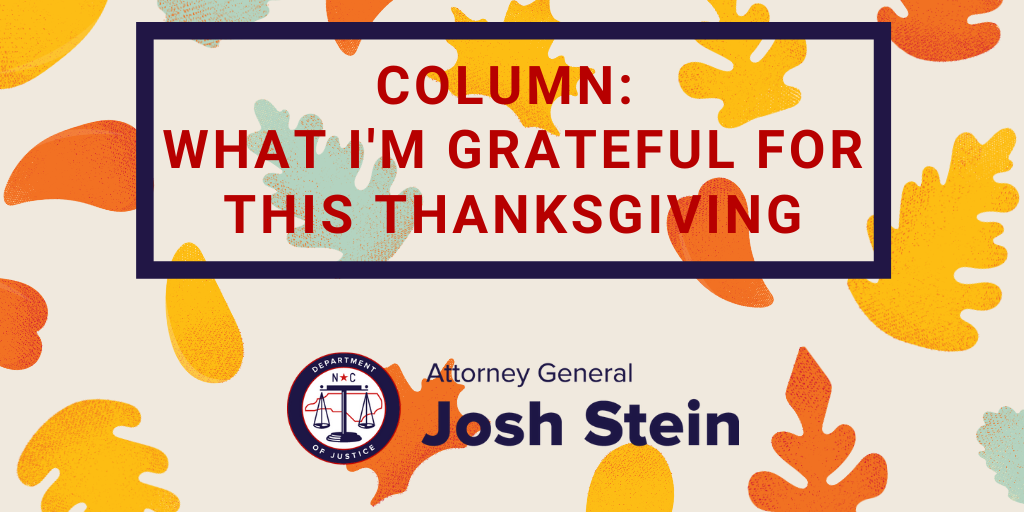 Attorney General Josh Stein
November 2019
As Attorney General, protecting North Carolinians is my top priority. My dedicated colleagues at the North Carolina Department of Justice and I have been hard at work in 2019 to protect the people in our state. And as Thanksgiving approaches, here's what I'm grateful for this year:
North Carolina is doing more to protect children from abuse and get justice for victims and survivors of child abuse and sexual assault.
This year, we passed the Survivor Act, which will help us put rapists behind bars. The law provides $6 million to test older untested sexual assault kits that are still in local law enforcement custody. We've already tested more than 1,000 of these kits, and nearly 20 percent have resulted in hits to the DNA database. We are finally getting much-delayed justice for victims.
The Survivor Act will also prevent backlogs from developing again in the future. It's part of our office's continued work to ensure that sexual assault investigations are done with accountability and transparency, so that the criminal justice system better serves victims of sexual assault.
And just last week, the SAFE Child Act became law. This legislation will protect our children, which is job one for us all. The law will make sure that abuse is reported and prosecuted, allow more victims to see justice, put more abusers behind bars, protect kids from sexual predators online, and allow adults who suffered abuse as children to sue their abusers and seek damages.
We're taking action to save domestic violence victims and prevent domestic violence deaths in our communities.
Any life lost to domestic violence is one life too many. That's why my office, along with the North Carolina Justice Academy and the North Carolina Coalition Against Domestic Violence, recently launched the Lethality Assessment Protocol statewide. The tool will give law enforcement a research-based checklist to consider when responding to a domestic violence incident. If an officer decides that a victim is at high risk, the officer will immediately connect the victim with a local domestic violence service provider. Taking this critical step can help us better and more quickly protect victims.
We're facing the opioid epidemic head on, and we're saving lives.
The opioid epidemic continues to take five lives a day on average in our state. It's leaving a trail of death and destruction in its wake. But for the first time in five years, we saw a decrease in unintentional opioid-related overdose deaths and emergency visits for opioid-related overdoses in North Carolina in 2018. North Carolinians have been relentless in taking action against this crisis. Through community solutions, laws including the STOP Act and the HOPE Act, our More Powerful NC public education effort, and the state's Opioid Action Plan, we're turning the tide on this devastation. I look forward to continuing this progress.
North Carolinians are protecting themselves and their hard-earned money from scams and fraud.
As I travel the state and talk about our office's work to combat scams and fraud, I'm encouraged to hear about how North Carolinians are taking steps to protect their wallet and personal information, as well. They are learning more about the scams targeting our communities, which change by the day, and they are warning people they know to stay vigilant against these scammers' efforts. These efforts are even more important as we approach the holiday season – when charity scams, package scams, and other scams ramp up. I'm grateful to each of you for protecting yourself and the people around you from these scams.
Our work on these issues, and the many others my office is working on, is never over. But we have made progress, and I'm incredibly grateful for my colleagues, our partners across the state, and the actions that North Carolinians have taken to protect themselves and their communities. I look forward to continuing this work with you all to build a safer, stronger North Carolina. From myself and everyone at the North Carolina Department of Justice, I hope you and your loved ones have a wonderful Thanksgiving.