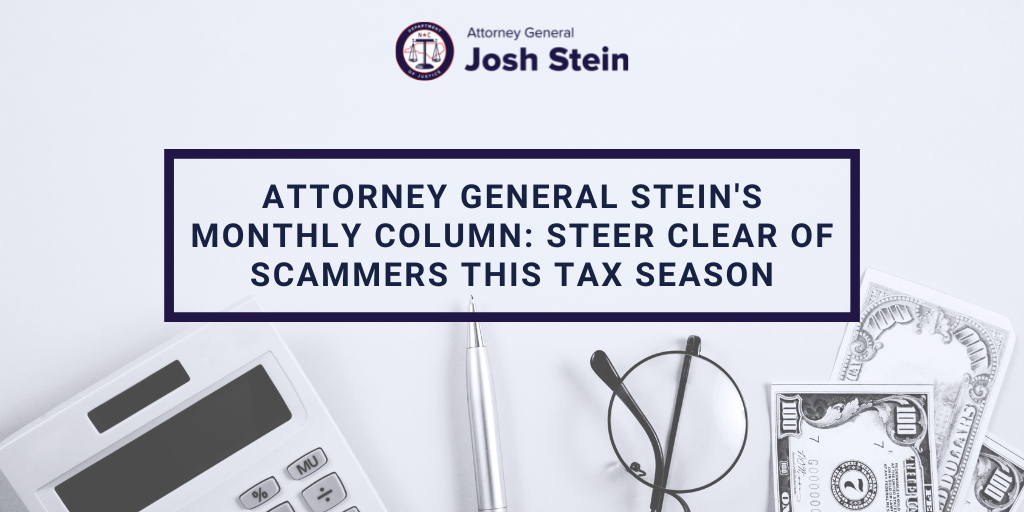 March 2023
Tax season is here, and that means it's primetime for scammers looking to take advantage of hard-working North Carolinians. Each year, my office hears complaints from people fighting off scammers while filing their taxes. These scams put people's money and identity at risk, but my office is here to help. Follow these tips to help you file your taxes safely and with peace of mind.
Protect your personal information. Identity thieves can use your Social Security number to file false tax returns in your name, take out loans, or open credit cards. As you file your taxes this season, avoid sending your personal information over email. If you are filing online, make sure you are using a secure website by looking for a lock icon and https:// in the URL.
Be wary of scammers impersonating IRS agents. Tax scammers often pose as IRS agents to phish for your information. But remember, the IRS will never initiate contact with you over the phone or by email to ask you for personal information or money. If you receive a call or email from somebody claiming to be with the IRS, it is likely a scam. Always ask a caller for their name or identification number. Then, hang up, look up the agency's telephone number on a government website, and call them directly.
Do your research before hiring anyone to prepare your taxes. Make sure your tax preparer has a Preparer Tax Identification Number (PTIN). Only those with a PTIN can charge you for preparing your returns. You can find a preparer's PTIN through the IRS tax preparer directory. Also, check with our office at 877-5-NO-SCAM or the Better Business Bureau to find out if the preparer has had any complaints filed against them. Keep in mind that taxpayers making $73,000 or less can use free tax preparation software through the IRS at www.irs.gov/efile.
Think twice before you opt for an instant refund. Some tax preparers and banks offer a refund anticipation check (RAC). This is a paid service for taxpayers who don't have a bank account to use for direct deposit of their refund, or who don't have the money to pay for tax preparation assistance. There's a fee (typically about $30) to set up the RAC system. The preparer deducts that fee, their tax preparation charges, and other fees from the eventual refund. After all that, there may not be much of your actual refund left.
Taxes can be stressful, but they don't have to be dangerous. By staying vigilant and taking these necessary precautions, you can protect yourself from these threats. If you believe you have been the victim of a tax scam, contact my office at 877-5-NOSCAM or file a complaint online at https://ncdoj.gov/complaint.