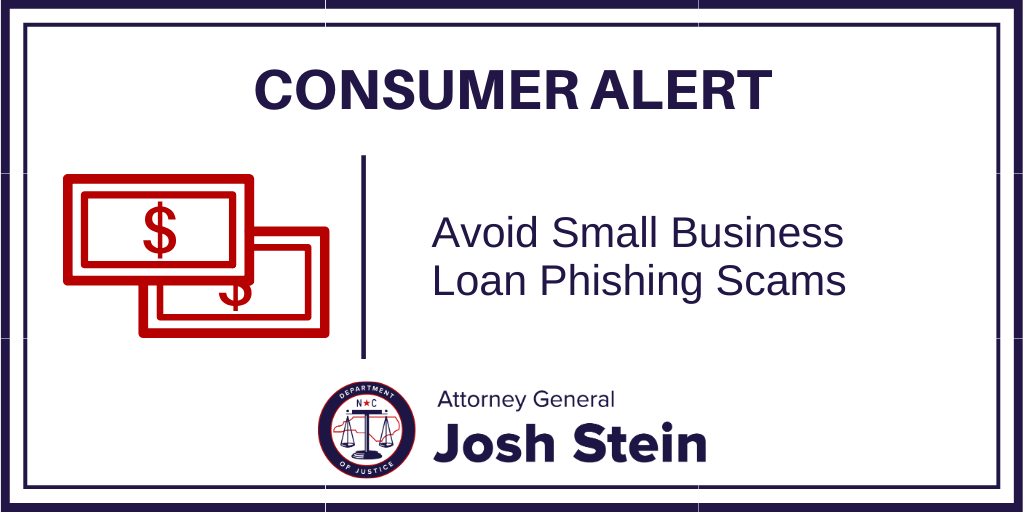 Wednesday, May 6, 2020
As the latest round of Paycheck Protection Program (PPP) payments go out to small businesses across North Carolina, scammers are devising ways to steal your relief money. Our office has received reports of scammers asking people to electronically sign documents from the Small Business Administration (SBA) to receive their loans. These phishing scams are fake and can give criminals access to your personal and financial information.
As the SBA implements the PPP, here are some things small business owners should be aware of about applying for and receiving loans or other financial relief:
Don't be fooled by phishing attempts. The SBA has noted that it does not initiate contact on either 7a or disaster loans or grants. If someone contacts you about these funds claiming to be from the SBA, it is likely a scam. Double-check links before you click on them, and don't open anything from an unfamiliar sender. If you're unsure if a message is legitimate, call the SBA directly.
Avoid sharing Personally Identifiable Information (PII). If you receive an email or correspondence that asks for your PII related to an SBA loan application, be sure that the email is legitimate. Review the sender's email address and make sure the referenced PII number matches the one you have on record.
Don't fall for lending scammers. If you're working to get a relief loan, be careful of scammers disguised as lenders who claim to be able to help you get the loan you need. Stick to local banks or lenders with whom you are already familiar, get recommendations from people you trust, or contact any federally insured bank, federally insured credit union, or Farm Credit System institution to find out if they are participating.
For additional guidance related to the COVID-19 response, please visit the SBA's resource page or the North Carolina Department of Commerce. Please report any suspected fraud to the SBA's Office of the Inspector General here or by telephone at 800-767-0385, and to the NCDOJ's Consumer Protection Division at https://ncdoj.gov/complaint or 1-877-5-NO-SCAM.