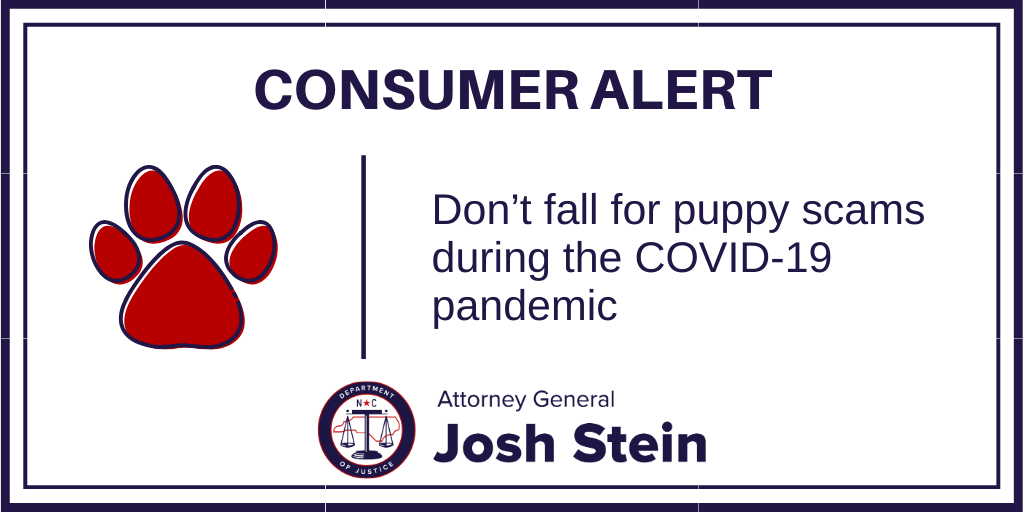 Friday, April 24, 2020
As people across North Carolina adopt pets during the COVID-19 pandemic, our office has received multiple reports of puppy scams. In these schemes, scammers charge extra fees to people looking to bring home a new pet, ask consumers to pay with gift cards, or even sell non-existent puppies to people. Our federal partners have received reports of bogus charges like insurance and crate fees added on using coronavirus as an excuse.
Scammers often try to take advantage of a difficult situation, and we want you to avoid them while you adopt your new best friend. The best way to protect yourself is to follow these tips:
Be skeptical of online sellers and classified advertisers you haven't heard of. Instead, take local recommendations from friends, neighbors, and others who you trust before you buy a pet. You can also consider adopting a pet from a shelter in your area. If you're unsure if a seller is legitimate, contact our office at 1-877-5-NO-SCAM.
Be wary of anyone asking you to send money in a suspicious way. Never wire money, send gift cards, or use a prepaid debit card. Once the money has been received by a fraudster, it's almost impossible to get it back. If anyone is asking you to pay using a gift card, it's a scam.
Don't let anyone rush you. Avoid sales offers that are only good "now or never." You should never feel like you have to make a decision or share financial information under pressure.
If a company contacts you and you're unsure of their authenticity or if you believe that you have been the victim of a scam, contact our office's Consumer Protection Division at ncdoj.gov/file-a-complaint or 1-877-5-NO-SCAM.