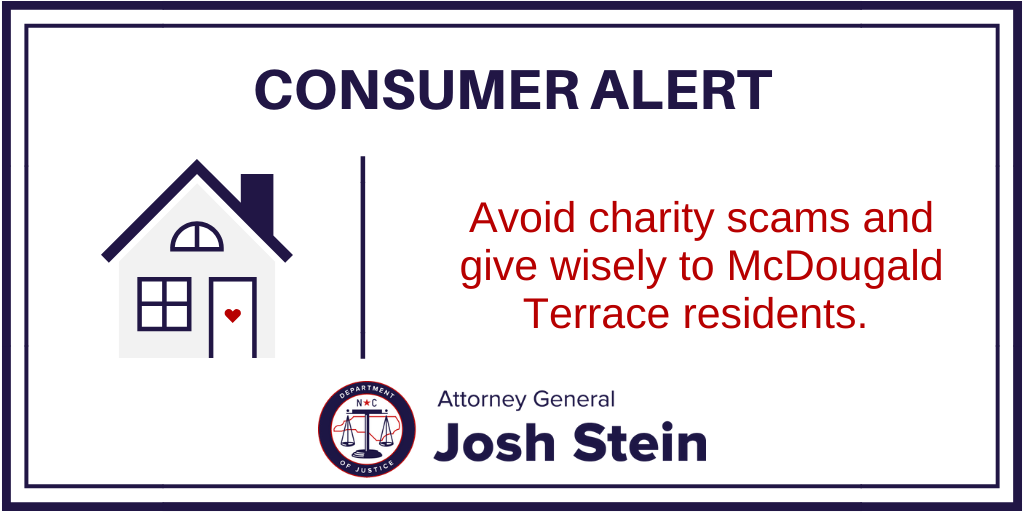 The Durham Housing Authority has relocated more than 300 residents of the public housing complex McDougald Terrace as a result of elevated carbon monoxide levels. If you are considering making charitable donations to help relocated residents, make sure your donations will actually get to the people who need it. Our office has been notified of potential fraudulent campaigns claiming to raise money for McDougald Terrace residents. We've been in contact with GoFundMe to shut down fraudulent campaigns.
Look out for unauthorized or fraudulent charities. The Durham Housing Authority advises that the only entities authorized to raise funds for McDougald Terrace are the United Way and the McDougald Terrace Residents Council. Please do not donate to any other online charity campaigns.
In general when donating to charities, be cautious of crowdfunding websites and unsolicited emails, text messages, and social media posts asking you to donate. Research charities before giving by calling our office at 1-877-5-NO-SCAM and checking their license with the Secretary of State. You can also use resources including the Better Business Bureau's (BBB) Wise Giving Alliance, Charity Navigator, Charity Watch, or GuideStar to research charity organizations.
If a company contacts you and you're unsure of their authenticity or if you believe that you have been the victim of a scam, contact our office's Consumer Protection Division at ncdoj.gov/file-a-complaint or 1-877-5-NO-SCAM.