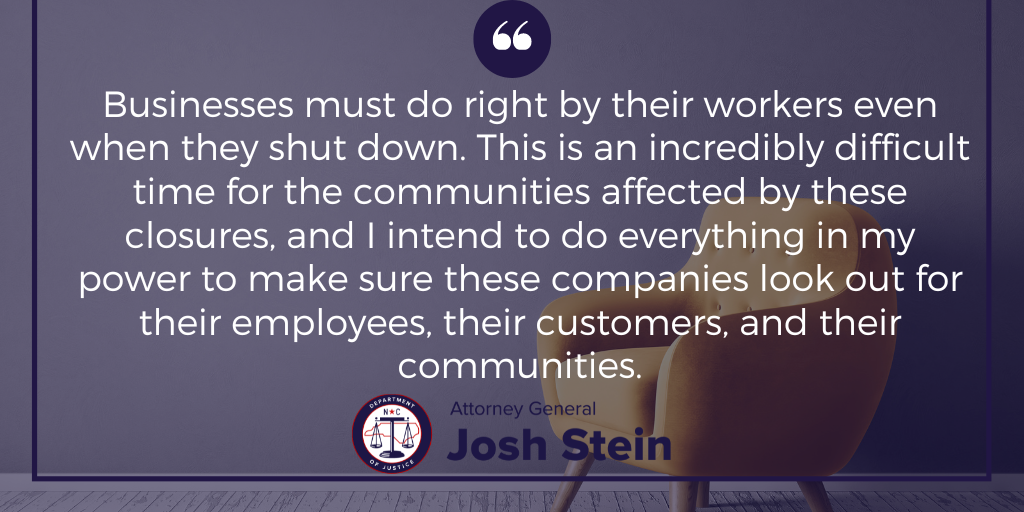 For Immediate Release:
Monday, September 11, 2023
Contact: Nazneen Ahmed
919-716-0060
(RALEIGH) Attorney General Josh Stein's office today called on Mitchell Gold + Bob Williams and Klaussner Furniture to do everything in their power to help former employees who are now without jobs after both companies closed their facilities. More than 500 workers have been left unemployed in Alexander and Iredell counties after Mitchell Gold + Bob Williams closed abruptly. In Randolph and Montgomery counties, the sudden closure of Klaussner Furniture left nearly 800 employees without jobs.
"Businesses must do right by their workers even when they shut down," said Attorney General Josh Stein. "This is an incredibly difficult time for the communities affected by these closures, and I intend to do everything in my power to make sure these companies look out for their employees, their customers, and their communities."
In the letters, the office calls on the companies to work with the Department of Commerce and local county governments to ensure that former workers have every resource available to support themselves and their families. The letter also directs the companies to be mindful of their consumer and environmental responsibilities.
Copies of the letters are available here and here.
###