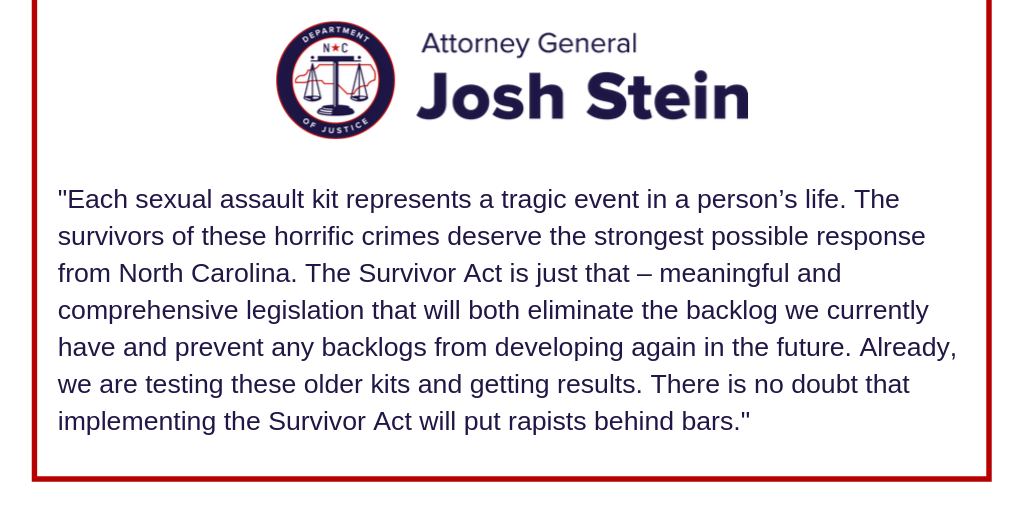 For Immediate Release:
Thursday, September 19, 2019
Legislation signed by Gov. Roy Cooper and sponsored by Sens. Warren Daniel, Danny Britt, and Floyd McKissick and Reps. Jamie Boles, Mary Belk, Billy Richardson, and Carson Smith addresses sexual assault kit backlog
(RALEIGH) Attorney General Josh Stein, joined by bill sponsors Reps. Carson Smith and Billy Richardson today announced that Gov. Roy Cooper signed into law the Standing Up for Rape Victims Act, or Survivor Act, which provides $6 million to test sexual assault kits and requires local law enforcement agencies to submit sexual assault kits for testing within 45 days of the kit's collection. Doing so will deliver justice to more victims and prevent backlogs from occurring in the future.
"Each sexual assault kit represents a tragic event in a person's life," said Attorney General Josh Stein. "The survivors of these horrific crimes deserve the strongest possible response from North Carolina. The Survivor Act is just that – meaningful and comprehensive legislation that will both eliminate the backlog we currently have and prevent any backlogs from developing again in the future. Already, we are testing these older kits and getting results. There is no doubt that implementing the Survivor Act will put rapists behind bars."
The legislation also requires law enforcement agencies to establish review teams to survey their entire untested SAECK inventory to determine a priority submission order for testing. The review team will determine the order based upon a series of factors such as investigative value and CODIS potential. Once determined, the agency will notify the State Crime Lab of its prioritization. The Crime Lab will then work with each local law enforcement agency to eliminate its untested inventory in priority order.
Many agencies have already begun this process. Since Jan. 2018, we have tested 904 sexual assault kits. Of those, 182 have resulted in a hit – which is about 20 percent.
For more information on the Survivor Act, please click here for a fact sheet on this issue. To see a timeline on North Carolina's response to the sexual assault backlog, click here.
Contact:
Laura Brewer (919) 716-6484
###