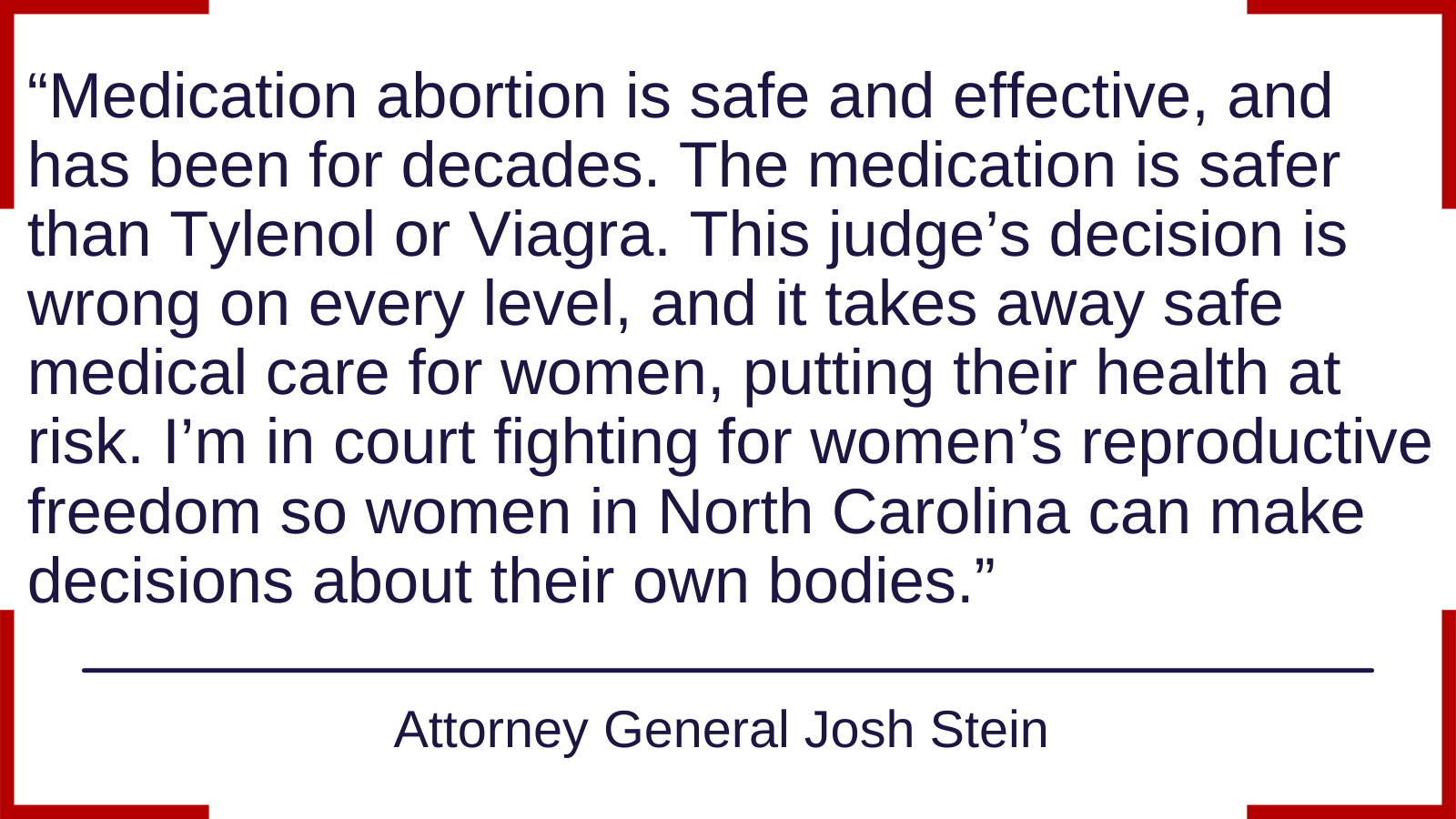 For Immediate Release:
Monday, April 10, 2023
Contact: Nazneen Ahmed
919-716-0060
(RALEIGH) Attorney General Josh Stein today challenged a decision that could restrict medication abortion access nationwide. Attorney General Stein and a coalition of 24 attorneys general filed a friend-of-the-court brief in the U.S. Court of Appeals for the Fifth Circuit, urging the court to stop a district court ruling from taking effect while an appeal is ongoing. The ruling, if it took effect, would overturn the U.S. Food and Drug Administration (FDA)'s 23-year-approval of the medication abortion drug mifepristone. Unwinding FDA approval would, in turn, drastically reduce women's access to safe abortion care and ability to manage miscarriages, endanger women's lives, and trample states' authority to protect and promote access to medical care for abortions.
"Medication abortion is safe and effective, and has been for decades," said Attorney General Josh Stein. "The medication is safer than Tylenol or Viagra. This judge's decision is wrong on every level, and it takes away safe medical care for women, putting their health at risk. I'm in court fighting for women's reproductive freedom so women in North Carolina can make decisions about their own bodies."
The district court's ruling came in a case brought by anti-abortion groups seeking to revoke the FDA's approval of mifepristone. On April 7, Judge Matthew Kacsmaryk of the U.S. District Court for the Northern District of Texas ordered the FDA to stay its approval of mifepristone, which happened in 2000. The court put its ruling on hold for seven days to give the federal government and the drug manufacturer an opportunity to appeal. Attorney General Stein is urging the appeals court to continue to stay the lower court's unprecedented and legally erroneous decision pending the appeal, because decades of clinical research and studies confirm that mifepristone is safe and medication abortion plays a critical role in reproductive health care.
The coalition notes that if the lower court decision takes effect, it could drastically curtail abortion access for millions of Americans. Mifepristone has been critical in providing access to safe abortion care. Medication abortion accounts for more than half of all abortions performed in the United States. If women don't have access to mifepristone and safe medical abortions, they'll be forced to undergo surgical abortions, resulting in later and riskier procedures and more complicated and costly logistics for many patients, especially in places where abortion procedures are unavailable. Moreover, lack of access to safe abortion care leads to worsened health outcomes and higher mortality for women.
Attorney General Stein is joined in today's brief by the Attorneys General of Arizona, California, Colorado, Connecticut, Delaware, Hawai'i, Illinois, Maine, Maryland, Massachusetts, Michigan, Minnesota, Nevada, New Jersey, New Mexico, New York, Oregon, Pennsylvania, Rhode Island, Vermont, Washington, Wisconsin, and the District of Columbia.
A copy of the brief is available here.
More on Attorney General Stein's efforts to protect women's reproductive health care:
###