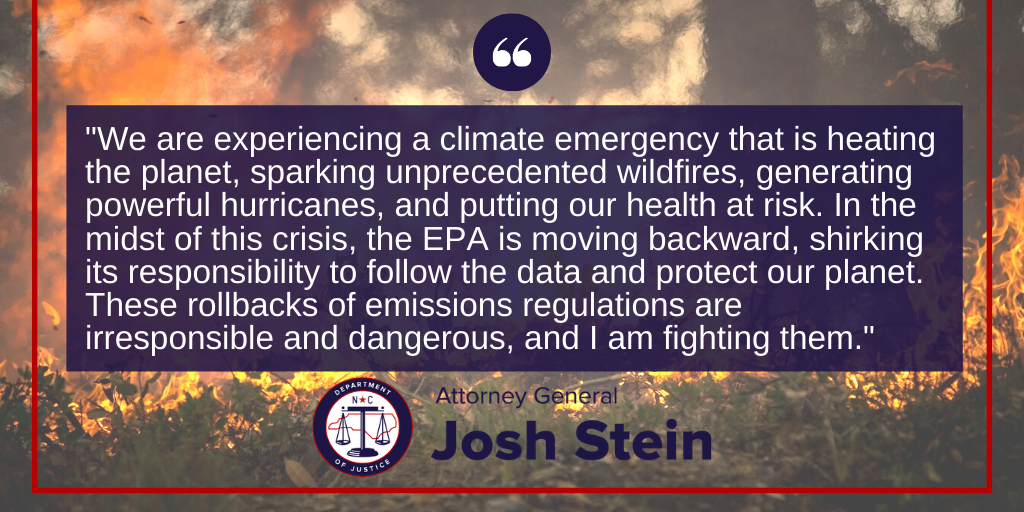 For Immediate Release:
Monday, September 14, 2020
Contact:
Laura Brewer (919) 716-6484
(RALEIGH) Attorney General Josh Stein filed a lawsuit challenging the Environmental Protection Agency's (EPA) final rule gutting standards that limit emissions of methane, volatile organic compounds, and other hazardous pollutants from the oil and natural gas industry.
"We are experiencing a climate emergency that is heating the planet, sparking unprecedented wildfires, generating powerful hurricanes, and putting our health at risk," said Attorney General Josh Stein. "In the midst of this crisis, the EPA is moving backward, shirking its responsibility to follow the data and protect our planet. These rollbacks of emissions regulations are irresponsible and dangerous, and I am fighting them."
Methane is a super-pollutant up to 87 times more potent than carbon dioxide in its ability to trap heat over a 20-year timeframe. Oil and natural gas operations are the largest single industrial source of methane emissions in the U.S. and the second largest industrial source of greenhouse gas emissions in the U.S. Roughly $1.5 billion worth of natural gas – enough to heat more than 5 million homes – leaks or is intentionally released from the oil and gas supply chain each year.
In 2016, the EPA finalized the first-ever standards to limit methane emissions from the oil and natural gas sector. The standards would have prevented an estimated 510,000 tons of methane emissions and resulted in a net benefit of $170 million in 2025.
In August 2020, the EPA announced a set of rules gutting the 2016 standards. The rules rescind requirements to regulate methane, remove regulation of transmission and storage, and roll back leak detection and monitoring requirements.
Together, these changes are expected to increase emissions of methane, volatile organic compounds, and other hazardous air pollutants by 850,000, 140,000, and 5,000 tons respectively by 2030. These rollbacks will accelerate the impacts of climate change and threaten public health, particularly for children, older adults, and those suffering from chronic lung disease and asthma.
Attorney General Stein is joined in filing today's lawsuit by the Attorneys General of California, Colorado, Connecticut, Delaware, Illinois, Maine, Maryland, Massachusetts, Michigan, Minnesota, New Jersey, New Mexico, New York, Oregon, Pennsylvania, Rhode Island, Vermont, Virginia, Washington, and the District of Columbia, as well as the Colorado Department of Public Health and Environment, the City and County of Denver, and the City of Chicago. The coalition plans to file a second lawsuit against technical amendments related to the final rule on Tuesday.
A copy of the lawsuit can be found here.
More on Attorney General Stein's work to protect the environment:
###