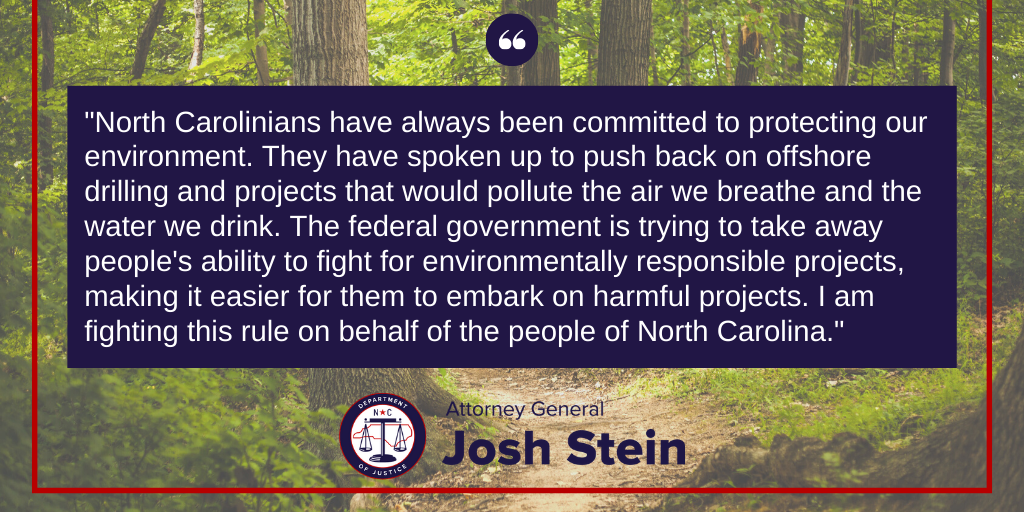 For Immediate Release:
Friday, August 28, 2020
Contact:
Laura Brewer (919) 716-6484
(RALEIGH) Attorney General Josh Stein today filed a lawsuit challenging an unlawful Trump administration final rule that limits longstanding requirements that federal agencies review and assess the environmental impacts of their actions under the National Environmental Policy Act (NEPA). The final rule also limits opportunities for communities to make their voices heard on actions that might impact their local environments and harm people's health.
"North Carolinians have always been committed to protecting our environment," said Attorney General Josh Stein. "They have spoken up to push back on offshore drilling and projects that would pollute the air we breathe and the water we drink. The federal government is trying to take away people's ability to fight for environmentally responsible projects, making it easier for them to embark on harmful projects. I am fighting this rule on behalf of the people of North Carolina."
NEPA is one of the nation's foremost environmental statutes. It requires that before any federal agency undertakes an action that would significantly affect environmental quality, the agency must first consider the environmental impacts, alternatives, and any available mitigation measures. As a result of the NEPA process, federal projects have frequently been modified to benefit communities and protect the environment. In North Carolina, these modifications have been made to coastal infrastructure projects, timber harvesting in our national forests, and federal highway projects in our state. North Carolina agencies and the public have used the NEPA process to weigh in on major federal projects, including those related to gas pipelines, offshore oil drilling, and impacts to environmental justice communities.
On July 15, 2020, the Trump administration's Council on Environmental Quality announced a final rule upending this requirement. This will result in agencies taking actions without fully understanding the impacts of those actions on climate change, overburdened and underserved communities, water and air quality, and threatened and endangered wildlife. Under the new rule, the scope of analysis and opportunities for input and public participation from state agencies and affected communities will be significantly curtailed, leading to less favorable outcomes for North Carolinians and our environment.
In the lawsuit, the coalition argues that the final rule violates NEPA and the Administrative Procedure Act because it exceeds the Council's statutory authority, is arbitrary, capricious, an abuse of discretion, not in accordance with the law, and was finalized without evaluating the rule's environmental and public health impacts.
Attorney General Stein is joined in filing today's lawsuit by the Attorneys General of California, Washington, Colorado, Connecticut, Delaware, Illinois, Maine, Maryland, Massachusetts, Michigan, Minnesota, Nevada, New Jersey, New Mexico, New York, Oregon, Pennsylvania, Rhode Island, Vermont, Wisconsin, the District of Columbia, and Guam, as well as the City of New York, Harris County, the Connecticut Department of Environmental Protection, and New York State Department of Environmental Conservation.
A copy of the lawsuit can be found here.
More on Attorney General Stein's work to protect the environment:
###