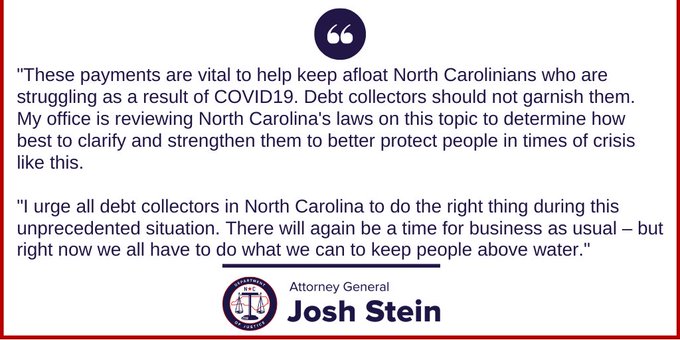 For Immediate Release:
Monday, April 20, 2020
(RALEIGH) Attorney General Josh Stein today released the following statement in response to news that debt collectors may attempt to garnish North Carolinians' recovery checks from the federal government.
"These payments are vital to help keep afloat North Carolinians who are struggling as a result of COVID19. Debt collectors should not garnish them. My office is reviewing North Carolina's laws on this topic to determine how best to clarify and strengthen them to better protect people in times of crisis like this.
"I urge all debt collectors in North Carolina to do the right thing during this unprecedented situation. There will again be a time for business as usual – but right now we all have to do what we can to keep people above water."
More on Attorney General Stein's work to protect North Carolinians during the COVID-19 pandemic:
Contact:
Laura Brewer (919) 716-6484
###