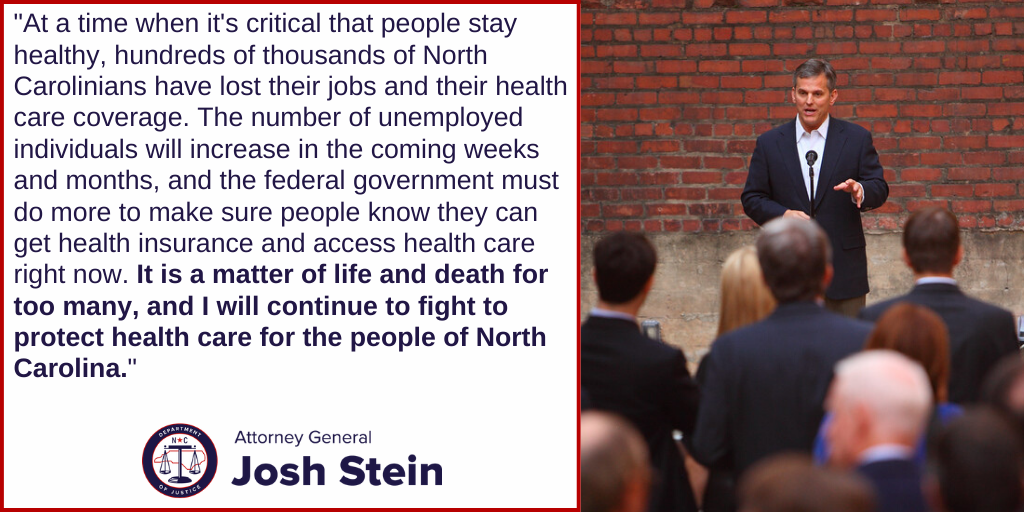 For Immediate Release:
Tuesday, April 14, 2020
(RALEIGH) Attorney General Josh Stein, along with California Attorney General Xavier Becerra and Michigan Attorney General Dana Nessel, today led a 22-state coalition urging the federal government to immediately develop and implement an outreach plan to inform the millions of Americans who have lost or may lose their health insurance coverage about the Special Enrollment Period on HealthCare.gov. In a letter to the U.S. Department of Health and Human Services (HHS) and its Centers for Medicare and Medicaid Services (CMS), the attorneys general highlight the importance of providing families with the information they need to navigate their health care options and get coverage during the COVID-19 pandemic.
"At a time when it's critical that people stay healthy, hundreds of thousands of North Carolinians have lost their jobs and their health care coverage," said Attorney General Josh Stein. "The number of unemployed individuals will increase in the coming weeks and months, and the federal government must do more to make sure people know they can get health insurance and access health care right now. It is a matter of life and death for too many, and I will continue to fight to protect health care for the people of North Carolina."
A new study by Health Management Associates estimates that up to 35 million people who are covered through their employer could be laid off as a result of the pandemic, and another 58 million individuals who have employer-sponsored coverage could be disproportionately impacted by changes in the labor market. The Affordable Care Act (ACA) provides flexibility to help people who have lost their job and their family's health care coverage in such situations through Special Enrollment Periods. These Special Enrollment Periods allow individuals to enroll in coverage outside of the yearly open enrollment period as a result of certain life events, like the loss of employer-sponsored health insurance.
Evidence shows that marketplace advertising and consumer assistance increases enrollment numbers and stabilizes markets. The coalition expresses concern that without immediate and widespread outreach, Americans who have recently been laid off will remain unaware of the Special Enrollment Period and thus not access needed health care coverage. Over the last few years, the Trump administration has actively cut marketplace advertising and consumer assistance. The importance of this outreach will only increase as the economic upheaval of this crisis continues.
The attorneys general urge HHS to empower individuals and working families to pursue the best coverage option for them, whether through HealthCare.Gov, COBRA, Medicare, Medicaid, or the Children's Health Insurance Program. While the federal government's promise to reimburse the uninsured for the testing and treatment of COVID-19 is a step in the right direction, it will not help provide the comprehensive health care Americans so desperately need and could leave many families with large hospital and insurance bills.
Attorneys General Stein, Becerra, and Nessel are joined in sending today's letter by the Attorneys General of Colorado, Connecticut, Delaware, Hawaii, Illinois, Iowa, Maryland, Massachusetts, Minnesota, Nevada, New Mexico, New York, Oregon, Pennsylvania, Rhode Island, Vermont, Virginia, Washington and the District of Columbia.
Individuals who want to learn more about Special Enrollment Periods and getting coverage through HealthCare.gov should visit https://www.healthcare.gov/coverage-outside-open-enrollment/special-enrollment-period/.
A copy of the letter is available here.
More on Attorney General Stein's work to protect North Carolinians during the COVID-19 pandemic:
Contact:
Laura Brewer (919) 716-6484
###