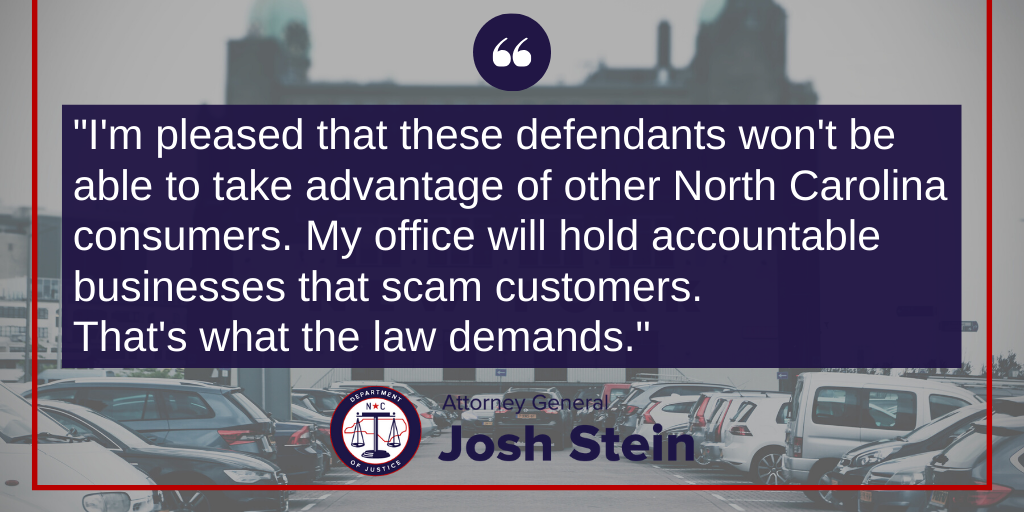 For Immediate Release:
Wednesday, March 11, 2020
(RALEIGH) Attorney General Josh Stein today won a consent judgment against Nathaniel Thomas Brown and Samuel Ross Ketner and their car dealerships Auto House of Mooresville and Auto House of Salisbury over deceptive sales and business practices that violated North Carolina's Unfair and Deceptive Trade Practices Act. The judgment requires the defendants to pay $160,000 in consumer restitution and fees and permanently bans them from engaging in any motor vehicle dealership business in North Carolina.
"I'm pleased that these defendants won't be able to take advantage of other North Carolina consumers," said Attorney General Josh Stein. "My office will hold accountable businesses that scam customers. That's what the law demands."
Attorney General Stein's lawsuit against the defendants alleged that they altered car bodies, emblems, interiors, and accessories to make them appear as if they were of a higher trim level, and therefore of a higher value. It further alleged that defendants distributed promotional material to consumers that falsely implied that the recipient had won a prize, that defendants altered or falsely reported information on buyers when submitting credit applications to lenders, that defendants collected payment for service contracts with a third party but never submitted the service contracts or the payments to the third party, and that defendants sold vehicles without accurately disclosing the damage history of each vehicle.
More on Attorney General Stein's Work to Hold Businesses Accountable for Unlawful Practices:
If you believe that you have been the victim of a scam, contact our office's Consumer Protection Division at ncdoj.gov/file-a-complaint or 1-877-5-NO-SCAM.
A copy of the judgment is available here.
Contact:
Laura Brewer (919) 716-6484
###