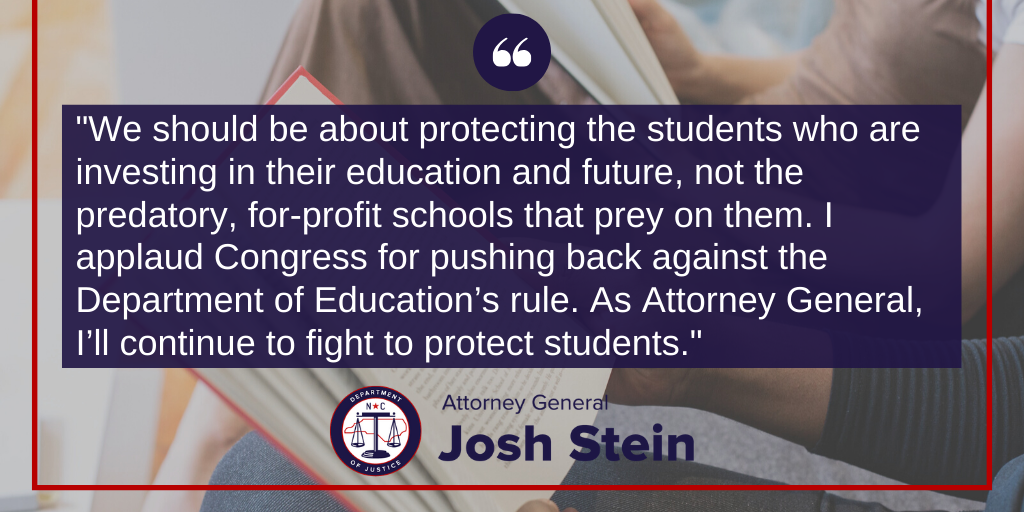 For Immediate Release:
Tuesday, January 14, 2020
(RALEIGH) Attorney General Josh Stein today supported congressional efforts to reject the U.S. Department of Education's 2019 Borrower Defense Rule, which fails to protect students and taxpayers from school misconduct. Attorney General Stein and 19 other attorneys general argue that the final rule provides no realistic prospect for borrowers to discharge their loans when they have been defrauded by predatory for-profit schools, and it eliminates financial responsibility requirements for those same institutions.
"We should be about protecting the students who are investing in their education and future, not the predatory, for-profit schools that prey on them," said Attorney General Josh Stein. "I applaud Congress for pushing back against the Department of Education's rule. As Attorney General, I'll continue to fight to protect students."
In a letter to Congress, the attorneys general commended efforts to reject the rule pursuant to a resolution of disapproval under the Congressional Review Act. The 2019 rule would rescind and replace the comprehensive 2016 Borrower Defense Rule, which provided defrauded borrowers with a transparent process to seek debt relief and protected taxpayers by holding accountable schools that engage in misconduct. The 2016 rule was developed through a thorough rulemaking process addressing borrower defense and financial responsibility that included the views of numerous schools, stakeholders, and public commenters.
According to the coalition's letter, the Department's new rule provides an unworkable process for defrauded students to obtain loan relief and will do nothing to deter and hold accountable schools that cheat their students. Instead of ensuring that borrowers are not bearing the costs of institutional misconduct, the Department's new rule empowers predatory for-profit schools and cuts off relief to victimized students.
Investigations and enforcement actions by attorneys general have revealed the misconduct of numerous for-profit schools and helped secure relief for tens of thousands of student borrowers. In July 2019, Attorney General Stein won a $168 million multistate settlement in debt relief for ITT Technical students that will result in 412 North Carolina borrowers receiving more than $4 million in loan relief. He has also urged U.S. Department of Education Secretary Betsy DeVos to exercise her authority to help North Carolinian students who were enrolled in now-closed Dream Center schools obtain relief for their student debts.
Attorney General Stein is joined in sending today's letter by the Attorneys General of Massachusetts, California, Delaware, Hawaii, Illinois, Iowa, Maine, Maryland, Michigan, Minnesota, New Jersey, New Mexico, New York, Oregon, Pennsylvania, Vermont, Virginia, Washington, and the District of Columbia.
A copy of the letter is available here.
More on Attorney General Stein's work to protect student borrowers:
Contact:
Laura Brewer (919) 716-6484
###