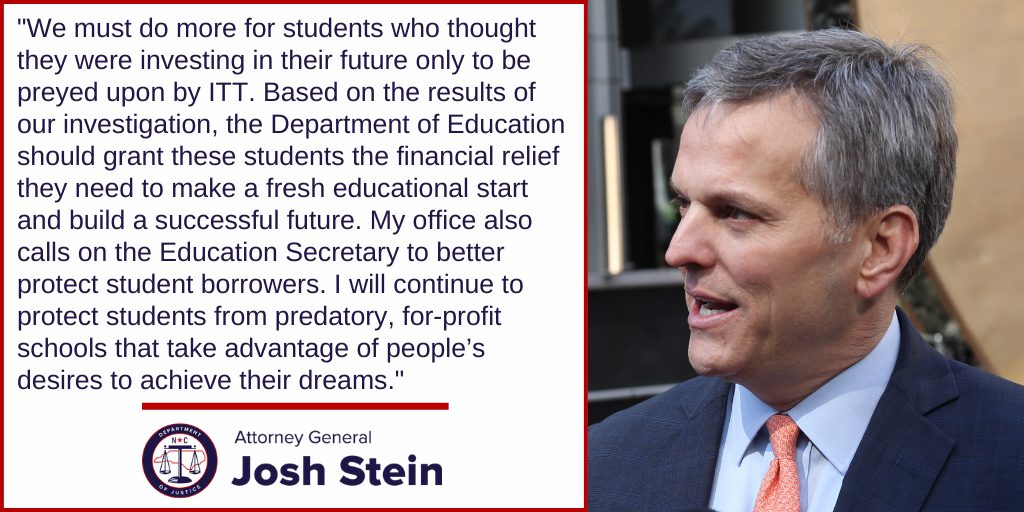 For Immediate Release:
Thursday, April 1, 2021
Contact:
Laura Brewer (919) 716-6484
Stein also calls on education secretary to institute reforms to protect students
(RALEIGH) Attorney General Josh Stein today petitioned the U.S. Department of Education to cancel federal student loan debt for students who attended ITT Technical Institute. The now-defunct for-profit school defrauded thousands of people by encouraging them to enroll in and borrow loans based on false and misleading information about the value of an ITT degree and opportunities for high-paying jobs after graduation.
"We must do more for students who thought they were investing in their future only to be preyed upon by ITT," said Attorney General Josh Stein. "Based on the results of our investigation, the Department of Education should grant these students the financial relief they need to make a fresh educational start and build a successful future. My office also calls on the Education Secretary to better protect student borrowers. I will continue to protect students from predatory, for-profit schools that take advantage of people's desires to achieve their dreams."
The borrower defense application that a bipartisan coalition of 25 attorneys general filed today covers students who attended ITT between at least 2007 and 2011, when ITT used deceptive tactics to convince students to attend the school and borrow federal student aid. Based on a 2012 congressional report, ITT enrolled roughly 282,000 students across the country between 2007-2010.
During this enrollment period, ITT encouraged prospective students to enroll and, in most cases, borrow thousands of dollars in federal student aid. ITT misrepresented the value of its education by claiming it would be substantial and students who enrolled would get high-paying jobs upon graduation with a constant rate of earning growth. This misrepresentation violated state consumer protection laws. Federal law permits the Department of Education to forgive federal student loans when borrowers were deceived into taking out those loans. The attorneys general are demanding full relief for ITT students, including refunds of the money students already paid on those loans.
Today's application is part of Attorney General Stein's continued efforts to protect student borrowers. Also this week, he and 22 attorneys general called on U.S. Secretary of Education Dr. Miguel Cardona to put in place additional reforms to ease the process of paying student loans and protect student loan borrowers from paying back debt to for-profit and defunct colleges that failed their students.
Attorney General Stein is joined in sending this letter by the Attorneys General of Colorado, Oregon, the District of Columbia, Connecticut, Hawaii, Idaho, Illinois, Iowa, Kansas, Maine, Maryland, Massachusetts, Minnesota, Nebraska, Nevada, New Jersey, New Mexico, New York, Pennsylvania, Tennessee, Vermont, Virginia, Washington, and Wisconsin.
A copy of the application is available here.
More on Attorney General Stein's work to protect students:
###