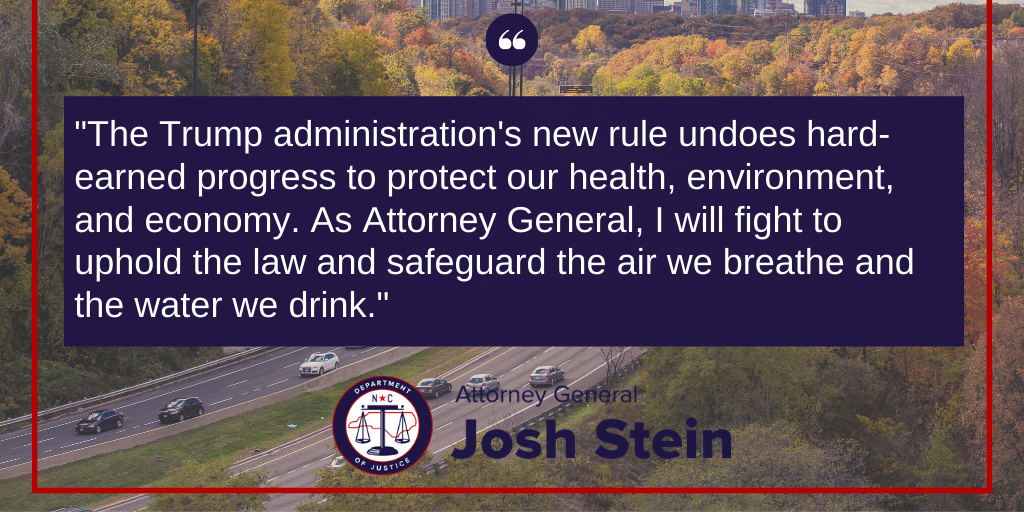 For Immediate Release:
Wednesday, May 27, 2020
Contact:
Laura Brewer (919) 716-6484
(RALEIGH) Attorney General Josh Stein today filed a lawsuit challenging the Trump administration's final rule rolling back the national Clean Car Standards. The lawsuit argues that the final Safer Affordable Fuel-Efficient Vehicles (SAFE) rule stops progress that has been made to protect the environment and reduce greenhouse gas emissions, hurts the economy, and harms public health.
"The Trump administration's new rule undoes hard-earned progress to protect our health, environment, and economy," said Attorney General Josh Stein. "As Attorney General, I will fight to uphold the law and safeguard the air we breathe and the water we drink."
In 2010, the Environmental Protection Agency (EPA), the National Highway Traffic Safety Administration (NHTSA), the California Air Resources Board, and car manufacturers established a unified national program harmonizing greenhouse gas emission standards and fuel efficiency standards. The standards required appropriate and feasible improvements in fuel economy and reductions in greenhouse gas emissions from passenger cars and light trucks. Since their introduction in 2010, these standards have saved consumers money, reduced harmful emissions, and helped protect the health of our communities.
In 2018, the Trump administration began dismantling the national Clean Car Standards by alleging they were no longer appropriate or feasible, despite the fact that the auto industry was on track to meet or exceed the standards. Attorney General Stein urged the administration to withdraw these plans. On March 31, 2020, the Trump administration announced its final rule rolling back the Clean Car Standards. The rule takes aim at the corporate average fuel efficiency standards, requiring automakers to make only minimal improvements to fuel economy—on the order of 1.5 percent annually instead of the previously anticipated annual increase of approximately 5 percent. The rule also guts the requirements to reduce vehicles' greenhouse gas emissions, allowing hundreds of millions of metric tons of avoidable carbon emissions into our atmosphere over the next decade.
The filing argues that the final rule unlawfully violates the Clean Air Act, the Energy Policy and Conservation Act, and the Administrative Procedure Act because the EPA and the NHTSA violated statutory text and congressional mandates and improperly and unlawfully relied on an analysis riddled with errors, omissions, and unfounded assumptions in an attempt to justify their desired result.
Attorney General Stein is joined in filing today's lawsuit by the Attorneys General of California, Colorado, Connecticut, Delaware, Hawaii, Illinois, Maine, Maryland, Massachusetts, Michigan, Minnesota, Nevada, New Jersey, New Mexico, New York, Oregon, Pennsylvania, Rhode Island, Vermont, Virginia, Washington, Wisconsin, and the District of Columbia, as well as the California Air Resources Board, the Cities of Los Angeles, New York, San Francisco, and Denver, and the Counties of San Francisco and Denver.
A copy of the filing is available here.
More on Attorney General Stein's work to protect the environment:
###