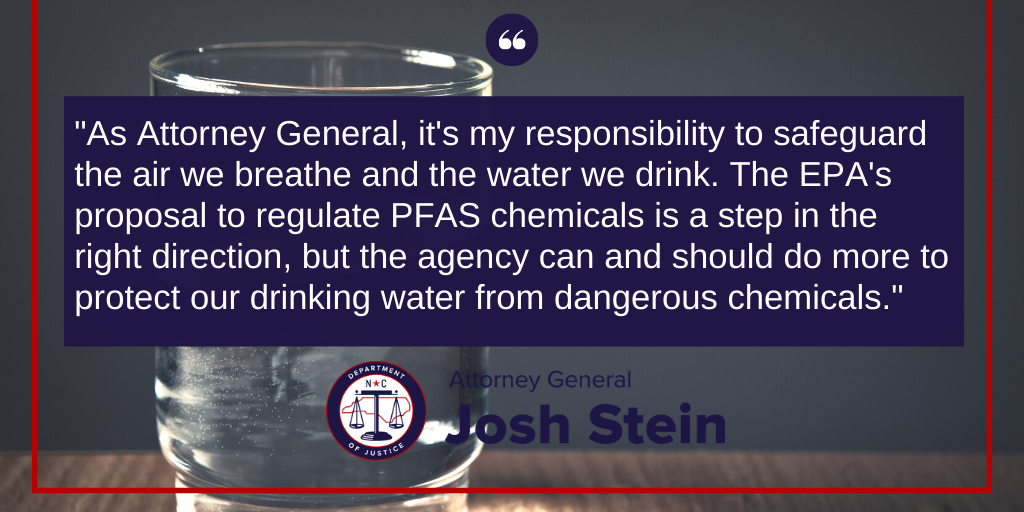 For Immediate Release:
Wednesday, June 10, 2020
Contact:
Laura Brewer (919) 716-6484
(RALEIGH) Attorney General Josh Stein today filed comments supporting the Environmental Protection Agency (EPA)'s plan to regulate perfluorooctanesulfonic acid (PFOS) and perfluorooctanoic acid (PFOA)—more commonly known as PFAS or "forever" chemicals—under the federal Safe Drinking Water Act. Attorney General Stein and a coalition of 22 attorneys general are also asking the EPA to quickly propose final drinking water standards that protect against these two chemicals and other PFAS chemicals.
"As Attorney General, it's my responsibility to safeguard the air we breathe and the water we drink," said Attorney General Josh Stein. "The EPA's proposal to regulate PFAS chemicals is a step in the right direction, but the agency can and should do more to protect our drinking water from dangerous chemicals."
PFAS chemicals resist degradation in the environment and accumulate in the body. Those contaminants may be linked to serious adverse health effects in humans and animals. Human health effects associated with exposure to PFOA may include kidney and testicular cancer, thyroid disease, liver damage, and preeclampsia. Human health effects associated with exposure to PFAS may include immune system effects, changes in liver enzymes and thyroid hormones, and other conditions.
Across the country, PFAS contamination is most often associated with military bases, firefighting training centers, civilian airports, and industrial facilities. PFAS chemicals tend to be persistent in the environment. Some states with significant PFAS contamination are currently spending tens of millions of dollars to address the contamination in public drinking water systems, and to investigate numerous areas and sources of potential contamination.
In 2019, Attorney General Stein's Environmental Division and the North Carolina Division of Environmental Quality reached a milestone settlement with chemical company Chemours that requires the company to control air emissions of GenX and other PFAS, measure PFAS contamination of public water, reduce PFAS contamination in the Cape Fear River, and overall address all sources of chemical contamination at the facility to prevent further harm to air, soil, groundwater, and surface waters.
Attorney General Stein is joined in submitting these comments by the Attorneys General of California, Colorado, Connecticut, Delaware, District of Columbia, Illinois, Iowa, Maine, Maryland, Massachusetts, Minnesota, Nevada, New Jersey, New Mexico, New York, Oregon, Pennsylvania, Rhode Island, Virginia, Washington, and Wisconsin.
A copy of the comments is available here.
More on Attorney General Stein's work to protect the environment:
###